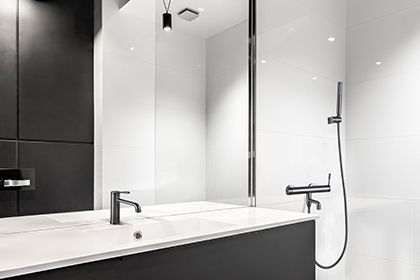 Bathroom Stainless Steel Faucet
Single Handle Modern Bathroom Faucet cUPC Certified Stainless Steel
RECO's bathroom faucets are made of SUS304 stainless steel; not only is it durable, corrosion-resistant and beautiful, but it keeps fingerprints and water stains from accumulating, making faucets easy to clean and maintain.
---
With most bathrooms being in a constantly humid state, the issue of rusty bathroom faucets seems inevitable, but there are ways to prevent it from happening in the first place. A stylish, durable, easy-to-clean stainless-steel faucet for the bathroom would be a good choice.

There are three types of RECO stainless-steel bathroom faucets
Stainless-steel basin faucets for bathrooms
Stainless-steel shower faucets for bathrooms
Stainless-steel bathtub faucets for bathrooms
Bathroom Stainless Steel Faucet - Single Handle Modern Bathroom Faucet cUPC Certified Stainless Steel | 100% Lead-Free Stainless Steel Faucets Manufacturer | RECO FAUCET CORPORATION
Located in Taiwan since 2012, RECO FAUCET CORPORATION has been a stainless steel faucets manufacturer. Their main manufacturing products, including Bathroom Stainless Steel Faucet, stainless steel kitchen faucets and stainless steel bathroom faucets, which are 304 grade and 100% lead-free.
After years of R&D and innovation, the RECO team with a number of structural patents has broken through the difficult problem of stainless steel processing in the past and successfully shortened the production time by more than 50%, which can be described as an industry initiative. Different from the traditional method of changing the manufacturing process, the appearance of diversification is no longer a dream, so that the faucet can also become the protagonist of home aesthetics.
RECO has been offering customer SUS304 stainless steel faucets, both with advanced technology and 10 years of experience, RECO ensures each customer's demands are met.